Solutions for a Safe and Economical Product Installation.
As a proven leader in Southern California's mulch and soil industry for over 25 years, AG Organics has worked very hard to become a full service Landscape Material Supplier.   In 2001 AG Blower Truck Services was born.   A service designed to give our customers the use of a efficient and extremely cost effective way in install large amounts of landscape mulch, compost and soils.  Over those years we have maintained an exceptional team to provide our customers with the very best mulch and soil application possible along with a sales staff equipped with unparalleled knowledge and superb customer service. We strongly feel that experience is the key to quality job performance and customer service. Give us a call and find out how AG Blower Truck Services can streamline your mulch and soil installation.
20,000 feet of Compost Sock filled with 50/50 soil blend with added native seeds.
Contact AG for a free quote and Landscape material samples.
Proudly Serving the Following Counties
California
• Los Angeles & Orange Counties
• Riverside & San Bernardino Counties
• San Diego & Imperial Counties
• Ventura, Santa Barbara, San Luis Obispo Counties
• Central Valley Counties
• Inyo & Mono Counties
• Sacramento Area Counties
• Bay Area Counties

Arizona
• Yuma County
• La Paz County
• Mohave County
• Pima County
• Maricopa County
• Yavapai County

Nevada
• Clark County
• Washoe County
• Lyon County
• Douglas County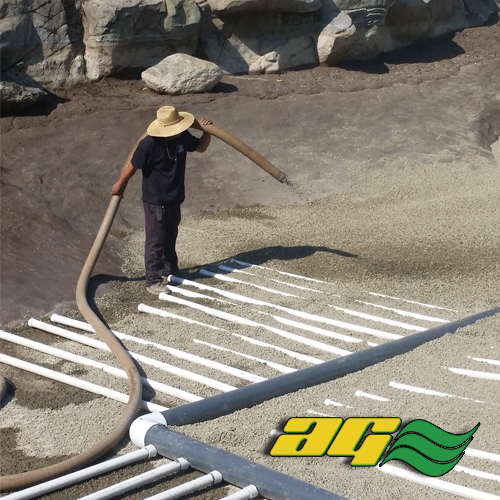 Anaheim Hills, CA
Pea Gravel Pump, Fish Pond Bio Filter
2nd & PCH / Long Beach, CA
Nutra Mulch 2″ Install
Landscape Material Supplier